Family Celebration Package
Family Celebration Package
Test Kits, T-shirts, and Certificates
Female and Male Test Takers

The Family Package allows you and the family to trace your maternal AND paternal roots from 500-2,000 years ago with a simple cheek swab. Only biological men can take the PatriClan test. A woman wanting to trace their paternal lineage must use DNA from a male relative on their paternal line.
The Family Package includes both test kits, six personalized Certificates Of Ancestry and six country of origin tees. ** T-shirts will reflect your choice of your country of ancestry, if available. Otherwise, package will include "African Ancestry" Tees. After receiving your results, you will receive a form to select your t-shirt countries and sizes and certificate names.
African Ancestry is the only genetic ancestry company that puts your identity, safety and privacy first. We destroy 100% of your DNA samples. We DO NOT sell or share your genetic information.
No refunds will be given once swabs are received at the lab. International customers are responsible for the postage to return swabs to us. International orders will be responsible for shipping costs of t-shirts and certificates.
Two Free Certificate Special not applicable to Family Package which includes an automatic savings of $64.

Let's Get Specific About Your Roots
Unlike other companies, African Ancestry uses the largest database of African genetic sequences to pinpoint your ancestral roots.

What You Get With Your Test
For female and male test takers, your test kit includes everything you need to submit your cheek swab.
Your results package will be delivered digitally and will include:
Your present-day African country and ethnic group, if your result is African.
A new sense of pride in your identity and a deeper connection with your Ancestors
One

MatriClan Test Kit: HVR1, HVR2 and HVR3 (hypervariable region) designations and mitochondrial haplogroup

- $299 value
One

PatriClan Test Kit: Y chromosome DNA sequence

- $299 value
Four African Ancestry t-shirts** - $120 value
Six Additional Personalized Certificate

Of

Ancestry- $75 value
"Guide to African History and Cultures" e-book
Exclusive access to Online Community on Facebook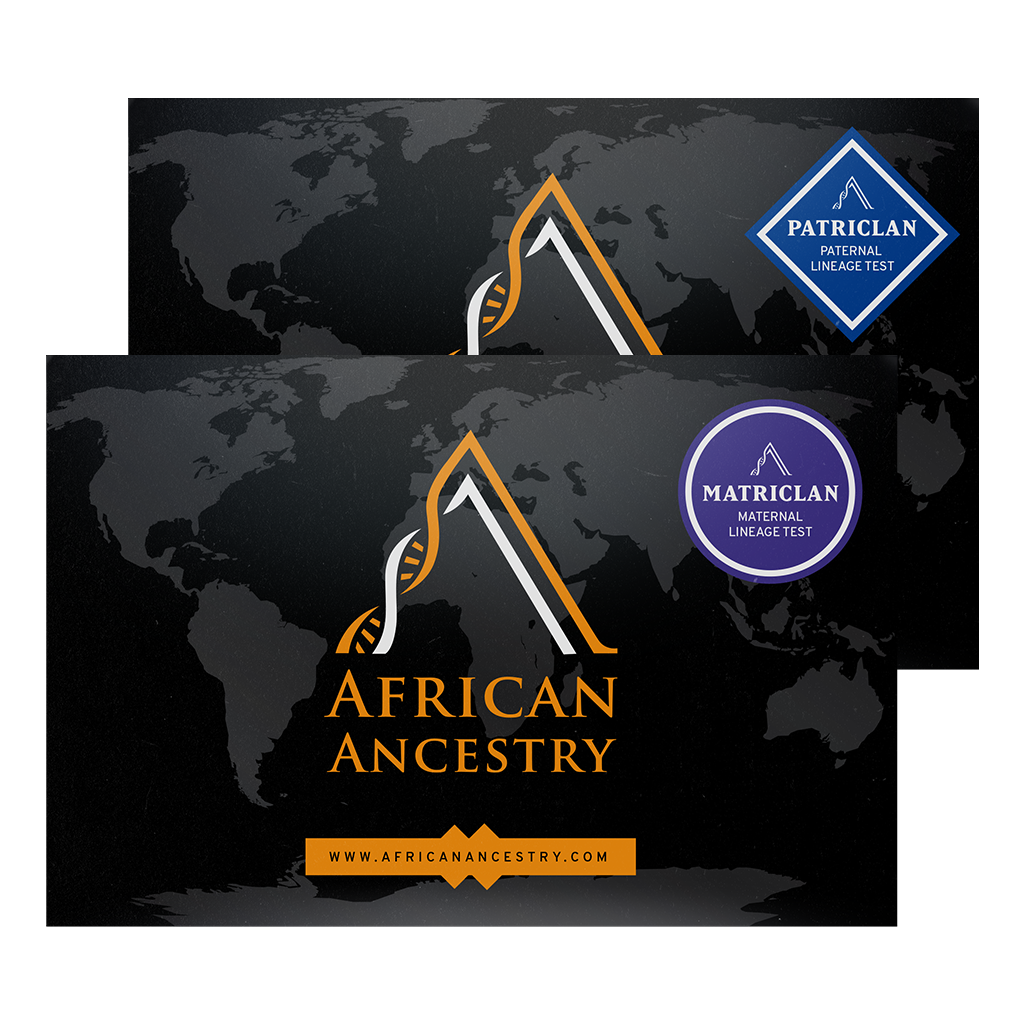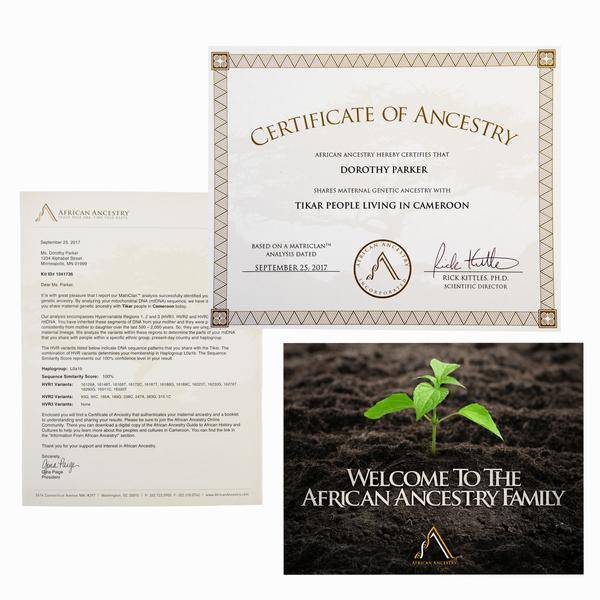 You'll activate your test kit online and receive your results through a password protected account, which will allow you to track your progress and review your results securely and confidentially.
Only biological males can take the PatriClan test. Women can trace their paternal lineage by having a male relative from their father's side take the test such as a brother or a paternal uncle.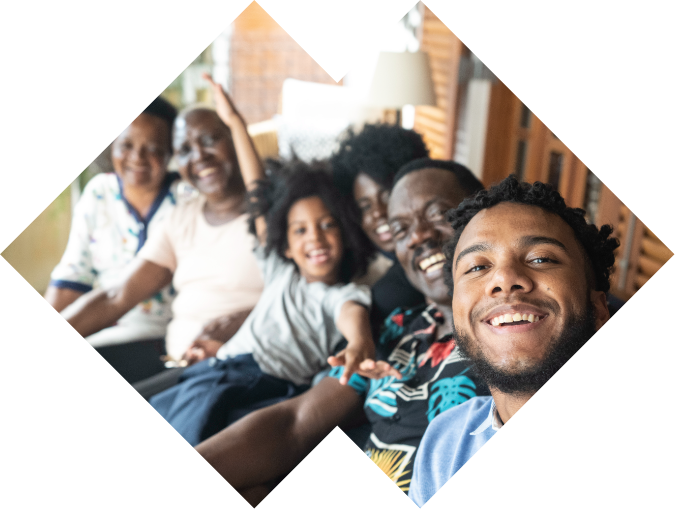 Perfect For Family Reunions
Share your African Ancestry experience at your next family gathering or an upcoming reunion.
With six additional Certificates Of Ancestry and six country of origin t-shirts included, plus additional certificates and tees available for purchase, the Family Celebration Package is a great project and gift for the entire family.
Throw an ancestry reveal party to share your results, certificates and tees
Research and share historic and cultural stories about your tribe
Find recipes and enjoy foods from that country
Make travel plans or find other ways to connect with the Motherland
A Lasting Legacy For The Whole Family
Your results apply to everyone who shares the same lineage.
Your DNA is completely confidential.
Why might you receive a result that is not African?
Very few, if any, African Americans are 100% African. During the period of slavery in the Americas, white men (slave traders, slave owners, etc.) often fathered children with enslaved women. Their offspring then had both African and European ancestry. This means that the descendants of the offspring will have a European branch in their family tree. There is an 8% chance that your maternal ancestry result will not be African. Read more about why here.
Can I send results from another company's test for analysis?
Paternal Ancestry Results
Yes, if you have Y-chromosome markers and a Y Haplogroup of A, B or E from another company, then your PatriClan Test result will be African.
If it is not a Y Haplogroup of A, B or E, then do not take the PatriClan Test. If it is, please click here to submit an Analysis Only request.

Maternal Ancestry Results

Yes, if you have a mitochondrial DNA (mtDNA) sequence and an mtDNA Haplogroup L from another company, then your MatriClan Test result will be African.
If it is not Haplogroup L, then do not take the MatriClan Test. If it is, please click here to submit an Analysis Only request.

Admixture/Autosomal Results
No, we cannot use autosomal data from another company. However, please check your results to see if the company gave you an mtDNA haplogroup or Y chromosome haplogroup. We can provide better direction if you have that data. Contact us at info@africanancestry.com.